I may receive a commission if you purchase through links on this page.
How to Eat Real Food on a Budget
Have you given up on a healthier diet for you and your family because of the cost of whole, organic foods?  I understand how you feel.  I once believed that truly nutritious foods were out of my reach.  When series of unfortunate events left my husband jobless and drained our savings, we had to tighten our budget.  Lowering food costs was one of the sacrifices we made.
I immediately stopped buying organics and began to figure out how to use coupons to save a tremendous amount on groceries.  Our once robust grocery budget was cut in half and yet our pantry, fridge and freezer were full.
However, I began to have health issues that made me realize that all of the inexpensive, but highly processed foods we were eating (read: almost any food you can purchase with a coupon) had to go.  I knew that I needed to feed my family better foods.  Whole foods.  Real foods. I felt overwhelmed at first, because I knew how much organics cost.
I realized, though, that buying all organic, all the time was not the goal.  The goal was a real food diet that provided my family with optimal nutrition.  Certainly, this meant that organic was preferable, but USDA certified organic was not always the best choice!
My desire to feed my family the right foods was so strong, that I ignored my usual perfectionism about food and began to add one new, real food to our diet every couple of weeks and subtract one or two processed foods at the same time.  Within months, our kitchen was devoid of boxes and bags of processed food and filled with amazing, fresh, real food.
If you're like many folks, you wonder how you and your family will thrive on a real food diet with a limited budget.  That's a valid concern.  The good news is that there are ways to enjoy whole foods on a tight budget.
Buy Produce In Season
Check out Field to Plate for a guide for your state.  Produce is less expensive when it is in season. Stock up at a good price and freeze or ferment what you can't eat right away.  Find farmer's markets in your area and you'll get even better prices for fresh, local produce than you will find at a chain grocery store.  If you can't find a farmer's markets, look into joining a CSA (Community Supported Agriculture).
Check out these great resources:
Local Harvest
Field to Plate
Local Dirt
Eat Wild
Pick Your Own
Buy Organic Produce from the Dirty Dozen List
Learn which fruits and vegetables are truly worth buying organic and which are perfectly fine to eat non-organic.  Hint:  Don't buy organic bananas or avocados.  Save your money to buy organic foods that really matter.
Of course, studies have shown that organic fruits and vegetables tend to have a higher nutrient content, but don't beat yourself up if you can't afford all organic, all the time just yet.  You don't have to be perfect to get started!
Make it Yourself
I advocate making your own foods anytime you can.  I understand that
time is often an issue
, but do what you can from scratch.  You'll pay more for convenience.
If you're a busy mama like me,
check out 20 Dishes
to learn how to prep a week's worth of meals in just an hour.
 Grow it Yourself
This is a money-saving no-brainer, right?  Start a vegetable garden and an herb garden.  Grow your own berries.  If you can't grow your own, visit a local pick-your-own farm or join a CSA.
 Start with your kitchen scraps.  Check out these great articles about regrowing produce right in your own ktichen:
Buy From Local Farmers
This is incredibly healthy, fresh, real food for half the price (or more!) of health food store prices.  Ask your farmer about his or her farming practices.  You may find that your farmer has decided to forego the expensive process to become USDA certified organic, but does, indeed, farm organically.
Create a Meal Plan
 If you are shopping on a tight grocery budget and you aren't already making daily menu plans and shopping lists, then start NOW.  Don't wait until Monday morning to decide what's for dinner on Monday evening!  Plan your meals and snacks for a week, go to the store once or twice per week and see yourself save!
Learn to use the leftovers from one meal to make another meal.  Make double batches of chili, tacos, meatloaf or other dishes to reheat in the oven on busy evenings when you would normally pull a processed "meal" from a box, bag or can.
Not into making your own meal plan?  My top two real food meal plan recommendations are
Real Plans
and
20 Dishes
.  I use them both and love them.
Grocery Shop Online
I also shop online at
Thrive Market
on a monthly basis and consistently find my favorite real food and natural living products for less than they cost at the health food store.
In fact, here's a little thank you for my readers – sign up at Thrive Market and get 20% off of your first purchase!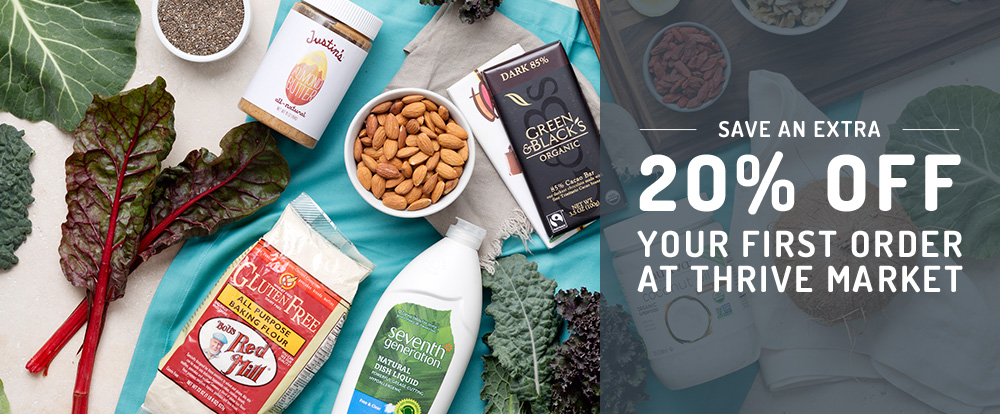 Eat Less Meat and More Veggies
This one is simple.  Plan more vegetarian meals, but make sure to include healthy fats like butter, coconut oil and olive oil.  Buying cheap margarine, vegetables oils and canola oil, however, is a bad idea. They are rancid, processed and super unhealthy.
Get your protein from dairy products (preferable raw) and plan only 2-3 meals with meat at the most.  When you do eat meat, don't serve each family member a whole piece of meat, but instead shred the meat or cut it into small pieces.  Make the meat a side dish instead of the main dish.
Don't get discouraged. Take it one food at a time.  You'll find that you were spending more than you thought you were on processed foods and that the nutritional punch of whole, real foods means you can eat less and be full.  You'll find your cravings for sugary foods will decrease and that food will become an accessory to your wonderful life instead of the main event.