This post brought to you by Sam's Club . The content and opinions expressed below are that of Our Small Hours.
Winter Tire Safety Tips
The weather is turning cooler and in many parts of the country the snow and ice will begin to make driving conditions less safe than they were in the heat of the summer.  I live in a climate where the winters are usually mild, but recently changes in weather patterns have left us with more ice on the roads than I was prepared for. I didn't learn much in driver's ed or from my parents about winter tire safety tips because they were really unnecessary for a southern driver. Then, a few years ago the weather began to worsen unexpectedly.  I had to learn quickly about how to drive safely in wintery conditions. As a busy mom, like I know you are too, I can't always stay home when the weather makes driving tricky.  I have to have my car and my tires in the best condition possible so that I can transport my family safely from place to place.   Read on to see how I make sure my tires are ready for winter weather.
Check Your Tires' Tread
Your tires come in contact with slick, icy roads.  If your tires can't grip the road, your safety is in jeopardy.  To help your tires handle winter conditions as well as possible, make sure that your tire tread is not worn down. To see if your tire tread is deep enough, insert a penny between the treads (Lincoln goes headfirst.) If Lincoln's head disappears into the tread, the tires are good.  This means that the tread on your tires needs to be at least 2/32 of an inch deep.
Test Your Tires' Pressure
Your tires should be neither over-inflated nor under-inflated.  Cold air causes tire pressure to decrease. This means that you may need to add air to your tires in the winter months.   Each car is different when it comes to how much air is needed to properly inflate the tires.  Your tires' ideal inflation should be listed in the owner's manual or on a sticker inside the car door's edge.  As my husband has reminded me many times, the air pressure listed on the tire itself is a maximum and not necessarily the ideal air pressure measurement for your car.
Take Your Car to Sam's Club for a Tire Check Up
When it's time to replace my tires or have them checked for proper tread and air pressure, I pull into my local Sam's Club to get the job done.  I like that I can have my tires checked or changed while I do my shopping.  Anything that saves me time and gets two things done at once is a lifesaver!  I know you're just as busy as I am, so this is a great way to manage your time and get more done. I love that everything is included when I get new tires at Sam's Club.  I don't have to add up or keep track of the separate costs for this service or that service. Sam's Club has an all-in tire pricing that keeps it simple and affordable to replace your tires and to be winter-ready.
Check Out the Sam's Club Dare-to-Compare All-In Tire Offer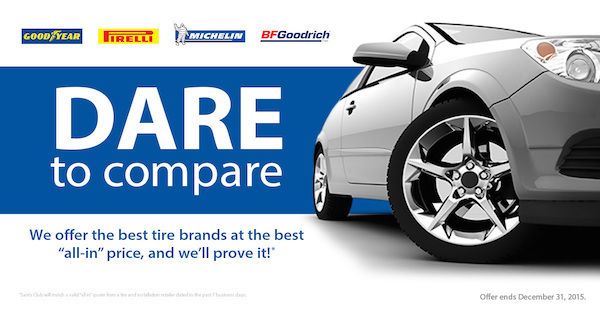 Sam's Club has all of the tire brands you love and trust:  Michelin, Goodyear, BF Goodrich and Pirelli. Their tire prices are unbeatable.  I can't find them cheaper anywhere. The tire installation package is . . . get this . . . just $15/tire ($25/dually)!  The Sam's Club Tire Installation Package* provides purchasing members with the following benefits and services for as long as they remain an active member of Sam's Club:
Tire Mounting
Tire Lifetime Balancing
Tire Lifetime Rotation
A Value Stem
No Charge Tire Lifetime Flat Repair
24-hour Emergency Roadside Service
* Complete terms and conditions of all Sam's Club warranties and services can be obtained at any Sam's Club Tire and Battery Center location
Here's how the #DareToCompare offer works:  Bring a valid "all-in" quote from a tire sales and installation retailer to your Sam's Club Tire and Battery Center service counter. The quote must be printed on dealer/retailer letterhead and dated within the past 7 business days. The tire must be the same brand, same line, same load index and speed rating (service description) as the tire intended for purchase at Sam's Club. Sam's Club carries some club-specific tire lines – in these cases, Sam's Club will compare the club-specific tire line to the equivalent general-market tire line. Sam's Club considers the following tire lines to be equivalent and will price match accordingly: Club-Specific Tire Model
BFGoodrich Touring T/A
Michelin Defender XT
Michelin X Radial LT2
General-Market Tire Model
BFGoodrich Advantage T/A
Michelin Defender
Michelin LTX M/S2
Pirelli
9/18/2015 – 11/30/2015
$80 Instant Savings
BFG
9/25/2015 – 11/7/2015
$50/$70 off set of 4
If you're family is as busy as mine, I know you've got plenty of road trips coming up this winter!  Between soccer tournaments and family get-togethers over the holidays, we'll be on the road quite a lot!  I'm glad I can feel secure with my winter-ready tires from Sam's Club!